A variety of marine adventures await from the local dock. Gustavus is located in Icy Strait, known for its protected calm waters and abundant marine resources. Marine mammals in the area include humpback whales, orcas, seals, sea lions and sea otters, and expect to see a number of marine birds. Fish in the area include king and Coho salmon, herring, and large halibut. Saltwater fishing, nature charters, whale watching tours and sea kayaking (day trips and overnight trips as well) all are available locally. To better experience our special marine environment, you may speak with your host for help planning a trip or contact the skippers and tour operators. Advance arrangements are appreciated.
Cross Sound Express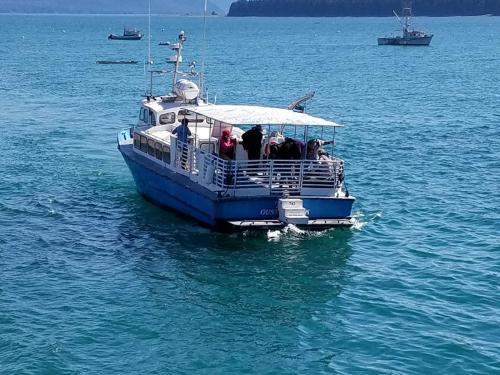 Phone: 907-321-2302
Toll Free: 888.698.2726
Email: csetaz@aptalaska.net
Website: www.taz.gustavus.com
Address
P.O. Box 1247
Haines, AK 99827
Amazing Nature Photography Experience ~ Unforgettable Whale Watching and Wildlife tours in beautiful Icy Strait aboard the 50' USCG certified 28 passenger tour vessel, the M/V 'Taz'. Enjoy the underwater sounds with our high quality hydrophone system. Also, custom charters and kayak shuttle for remote drop-off and pick-up. Locally based and operated by professional crew. Two daily departures from the Gustavus City Dock - 8:30 am to 12:00 noon, and 12:30 pm to 4:00 pm.
Fairweather Adventures at Glacier Bay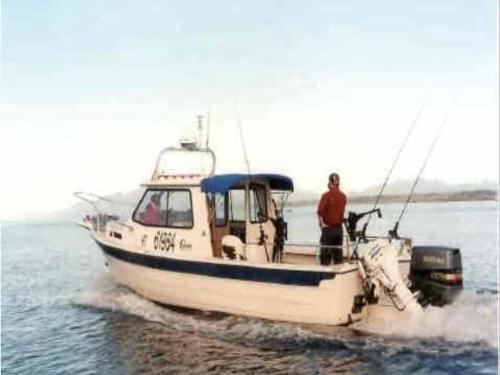 Phone: 907-723-3065
Email: jim@fishglacierbay.com
Website: www.fishglacierbay.com
Address
P.O. Box 148
1010 Chase Dr.
Gustavus, AK 99826
Fairweather Adventures at Glacier Bay, which takes its name from the lofty snow-clad peaks of Glacier Bay's spectacular Fairweather Mountain Range, presents an Alaskan sightseeing and sport fishing adventure that you'll never forget. Come enjoy the contagious enthusiasm that Jim and Julene Kearns and their family have for this beautiful place as they offer you their unparalleled experience in the Glacier Bay area. You will be treated to some of Alaska's most magnificent natural beauty, its abundant marine mammals, and its finest sport fishing. It is awesome! Fairweather Adventures at Glacier Bay is an official concessionaire of Glacier Bay National Park and Preserve.
Glacier Bay Sport Fishing
Phone: 907.697.3038

Email: glacierbaysportfishing@gmail.com
Website: www.glacierbaysportfishing.com
Address
P.O. Box 314
14 Trudy
Gustavus, AK 99826
Glacier Bay Sportfishing provides sport fishing charters. Individually tailored charters to suit the interests of fishermen of any skill level. Captain Mike Halbert has fished the waters of Icy Strait and Cross Sound since 1985 acquiring the skills and knowledge to create a truly unique fishing experience. He provides sightseeing tours in Icy Strait and Point Adolphus. Day charters and multi-day all-inclusive packages available. Maximum of six passengers creates an intimate atmosphere in the company of Humpback Whales, Orcas, Sea Otters and Stellar Sea lions at Point Adolphus and Icy Strait.
Spirit Walker Expeditions
Phone: 907.697.2266
Toll Free: 800.KAYAKER
Fax: 907.697.2701
Email: info@seakayakalaska.com
Website: www.seakayakalaska.com
Address
P.O. Box 240
2 Grandpa's Farm Rd.
Gustavus, AK 99826
Spirit Walker Expeditions is a local, guide-owned and operated sea kayaking company with over 20 years of experience. We guide world-class sea kayaking expeditions throughout Southeast Alaska, specializing in fully outfitted and personalized small-group expeditions. Take advantage of Alaska Airlines' National Parks promotion: Whether you fly to Gustavus/Glacier Bay or Juneau, the price is the same, and you can stopover and visit either for free! Why not experience the spectacular scenery of Glacier Bay National Park. It's easy, make sure you book your flights with Gustavus/Glacier Bay and Juneau in the same itinerary and search by price. Show your JNU/GST Boarding pass to take advantage of the following local offers. Spirit Walker offers one to seven day trips to the whale feeding grounds at Point Adolphus, Lodge to Lodge and remote wilderness adventures, Glacier Bay packages, family trips and more. Our approach emphasizes wilderness stewardship and minimum impact camping with plenty of time for good food and friends. Our experienced and professional guides, high quality equipment, local expertise and prime location is the perfect combination for an unforgettable wilderness trip in Southeast Alaska's Inside Passage. Come join us!
Un-Cruise Adventures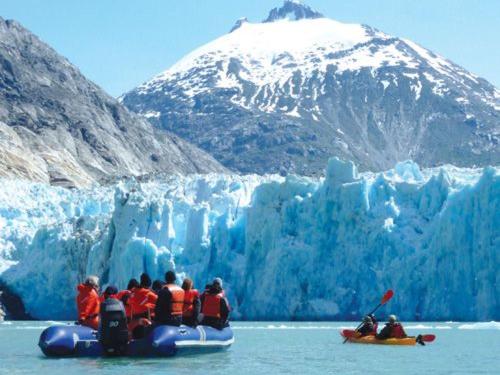 Unmatched, Hands-On Small Group Explorations. Unrushed. Uncrowded. Unbelievable.
Flexible 7-21 night voyages intended to inspire and satisfy your curious nature. With several styles to choose from, you have an inviting alternative to your typical cruise. Kayaks and whales, snorkels and totems, mountains and water, service and wine. Uncover your adventure today—then pack your bags and venture into some of nature's most exciting playgrounds and historic ports for exploration, eye-to-eye wildlife encounters, and Living History.
Join 22-88 like-minded adventurers on an upscale yacht, expedition vessel, or replica turn-of-the-century coastal steamer.
Visit us online at Un-Cruise.com or call 888-862-8881 for more information, to order brochures, or to reserve your cabin or stateroom.
Choose to Un-Cruise!
Additional Resources